Teacher strike leads to closure of Rotherham school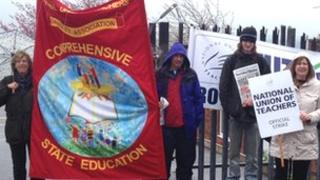 A strike by teachers' union members in a dispute over job losses and claims of financial mismanagement has led to the closure of a school in South Yorkshire.
Head teacher of Swinton Community School in Rotherham, David Pridding, said a fall in pupil numbers had led to the need for restructuring of staffing.
Eight jobs were originally thought to be at risk but the figure had been reduced to one.
NUT rep Christine Cooksey said falling rolls was "being used as an excuse".
Ms Cooksey said the situation was a result of financial mismanagement over a number of years.
Strike 'premature'
"We understand that pupil numbers are dropping but we feel that the situation has basically been brought about by not taking this into account at an earlier stage."
Mr Pridding said the decision to strike was "at best, premature".
"The only outstanding issue involves an NUT member who has been offered an alternative role within the school."
Mr Pridding said although only 18 of the 70 school staff were NUT members, he had decided to close for the day.
"I'm not told in advance which teachers will be striking. I'm not taking any risks so what I've done today is I have closed the school for pupils."
He said he was proud of the way he and the management team had handled the school's finances since he took over in September 2009.
A drop of 163 in the number of pupils between 2008 and 2012 was the equivalent of losing £815,000 income, Mr Pridding said.
Ms Cooksey said staff felt let down after working hard to improve standards at the school.
"Our students deserve to have all their teachers teaching them, and we shouldn't be faced with this redundancy situation," she said.