Campaign bid to save Maltby grammar school entrance in Rotherham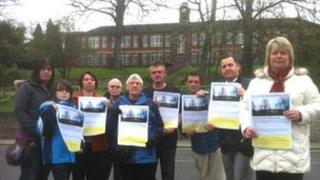 A campaign to save a former grammar school from demolition has started in Rotherham.
Maltby Academy, which is planning a £10.9m re-design, said it was considering knocking down the 80-year-old building on Braithwell Road.
Campaigner Andrew Searson said: "It was built in Maltby, built by the people for the Maltby people."
The academy said it was looking at the "best benefit for the students present and future."
Mr Searson added: "It's been a feature on the Maltby landscape for over 80 years. It's 80 years old this month and sadly it could be its last.
"It was built in great hardship. It makes me feel extremely sad."
As part of the school's redevelopment it said it planned to use 67% of its existing buildings as well as creating new buildings, including a business and innovation centre.
In a statement Maltby Academy said: "There were issues identified with a number of the old buildings, including the old grammar school building, that could not be addressed within this scheme.
"The issues relating to the building forming the old frontage are to do with suitability, access for all and best benefit for the students present and future.
"We recognise that any scheme to demolish the frontage could provide challenges given the history of the building.
"However, we need to ensure that we have an overall scheme that meets the educational needs of all Maltby learners."