Kim Streets takes over at Museums Sheffield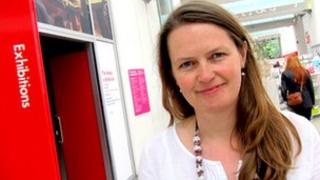 A new leader has been appointed for Sheffield's museums.
Kim Streets, who has worked in the city's museums since 1991, took over as Museums Sheffield chief executive on Wednesday.
Her appointment follows the departure of Nick Dodd, who decided to take voluntary redundancy in February amid job losses.
In February, 44 redundancies were announced after the organisation lost out on an Arts Council funding bid.
Ms Streets, who has lived in Sheffield since 1986, began her career as a social history curator before becoming director of learning at Museums Sheffield.
Cheaper exhibitions
She said morale was "tough" with 44 out of 107 jobs going by September.
Museums Sheffield said every area of the organisation would be affected by the redundancies and 13 people have already left.
"There are a combination of voluntary and compulsory redundancies. Everyone knows their individual position," said Ms Streets.
"We're saying goodbye to people who have worked here longer than I have - 25, 30 years. People are very sad, and they're also fearful for their own jobs and what the future might hold."
Ms Streets said the next step was to stabilise the organisation while putting on less expensive exhibitions.
"We have some fab sites and some great collections," she said.
"We need to get real about what we can afford - make the most of the assets based here in Sheffield.
"We'll be looking at shows that aren't necessarily as expensive as some we've had recently."
Ms Streets said when she joined Sheffield's museums in 1991, the financial situation was similar.
"[In 1991] we had no money, a small team and the prospect of year-on-year cuts.
"But we managed to do great things with the resources we had."
Transitional funding from the Arts Council meant Museums Sheffield could go ahead with their planned summer exhibitions.