Barnsley FC starts text service to report racial abuse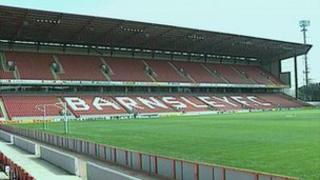 A texting alert service to stamp out bad language and racial abuse at home games has been launched by Barnsley Football Club.
Fans can report problems during matches by anonymously sending a text message to Oakwell Stadium's control room.
Abusers could be either cautioned, removed or face legal proceedings by police.
The club said it intended to create a family friendly environment and that bad behaviour would "not be tolerated".
The use of bad language at the ground was "a big problem", the club said. Racial abuse was less of an issue but it wants to take preventative measures.
The Don't Stand For It campaign is a joint initiative by South Yorkshire Police and the football club.
Both the police and club said no incidents had been reported during the past two matches, since the service started earlier this month.