Doctors 'could have saved' Rotherham baby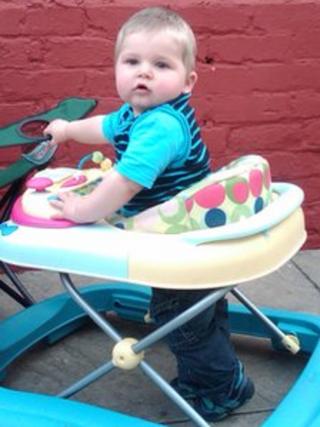 A baby who died after contracting chickenpox could have survived had he been given the appropriate treatment, a coroner has said.
One-year-old Lewis Mullins from Maltby, Rotherham, died in April 2011 after suffering streptococcal pneumonia.
He was initially treated for chickenpox. A Rotherham inquest heard his illness worsened but he was sent home by doctors three times.
The NHS has apologised to Lewis's family.
Coroner Nicola Maundy recorded a narrative verdict, saying that "had appropriate treatment been instigated on any of these three occasions it is likely Lewis would have survived".
The inquest heard Lewis was initially treated for chickenpox at an NHS walk-in centre on 30 March, days after his first birthday, and was sent home with a prescription for an antiviral drug.
'Happy chappie'
When he developed a new rash, difficulty breathing and a high fever the next day, doctors at Rotherham Hospital thought he was suffering an allergic reaction to the drug and discharged him.
On 1 April his condition deteriorated further and he was seen by doctors but again discharged, the inquest heard. The next day he stopped breathing at home and died later in hospital.
Irwin Mitchell, the law firm representing Lewis's family, said: "Expert evidence was heard from a consultant paediatrician who advised that Lewis's fevers, rash and steady deterioration were highly unusual for uncomplicated chickenpox, and steps could and ought to have been taken to identify and treat his serious lung infection."
Lewis's mother Jodie Conlay, 28, said: "I still can't believe that Lewis is no longer with us. He was such a content baby, a real happy chappie. His big sister keeps telling me she misses her little brother.
"Hearing that the treatment given to Lewis could have been different and could have saved his life was completely soul-destroying. I just hope now that changes can be made, and more notice taken of parents' concerns, to try and prevent others from having to go through the heartache that we have."
A spokesman for Rotherham NHS Foundation Trust said: "We would like to express our sorrow for any failings in the care we provided at the time and which have been highlighted at inquest and to confirm that we have both learnt from these and instigated improvements."