Sharks Ski Club returns to fire-hit Sheffield Ski Village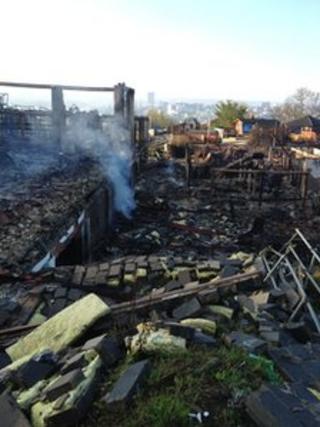 A ski club left homeless after fire ravaged its Sheffield base has said training is to restart there.
Two fires within two days last month destroyed the main building and part of the ski lift at Sheffield Ski Village where the Sharks Ski Club trains.
Head coach Norman Gill said volunteers had made it possible for sessions to start again from 12 May.
Managers of the ski club said they hoped the whole facility would reopen within weeks.
The club meets at the ski village on Saturday mornings and Thursday evenings.
Mr Gill said: "I've spent 24 years at the ski village... It was absolutely devastating when the fire happened."
He added: "We've been told that the electricity is still on so that the lift is still working and the lubrication system is still working so we're going to have volunteers from the Sheffield Ski Village staff to help with that side of things.
"With that and the energy and enthusiasm from the parents and the volunteer instructors we're going to get skiing back for Sheffield's young people."