Family's concern for missing Monk Bretton man Ben Hey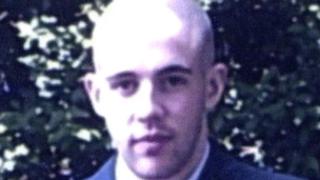 The father of a South Yorkshire man who has been missing for nearly a week has said his disappearance has come "completely out of the blue".
Police are searching for Ben Hey, 25, who has not been in touch with family or friends since meeting a friend in Leeds on Friday.
Mr Hey, from Monk Bretton, had travelled to the city centre to meet the friend outside the Dry Dock pub.
Father Brian Hey said: "We're very worried. We just want him back."
Police said there had been a possible sighting of Mr Hey in Headingley on Sunday.
His father said since his disappearance there was some evidence to suggest his son was stressed.
He said: "It's taken everyone by surprise. It's totally out of the blue.
"Normally he's quite a buoyant person, he's a happy-go-lucky type chap, and no-one realised perhaps he was under pressure and stress."
Mr Hey said his son's mobile phone was switched on and police believed his phone to be in Leeds.
Family and friends have been handing out leaflets in the Leeds area and have started a group on Facebook which has attracted more than 17,000 members.
South Yorkshire Police said they were "growing increasingly concerned for his welfare" and have appealed for anyone with information to contact them.
Mr Hey is 6ft 4in, a stocky build with shaven hair. He was last seen wearing a black bomber jacket with a yellow motif on the arm, blue jeans and white trainers.