UK Coal plans 1,200 homes for former pit site at Rossington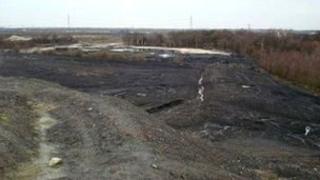 UK Coal has announced plans to build more than 1,000 houses on the site of a former South Yorkshire colliery.
The development would see 1,200 properties at Rossington near Doncaster, marking the third stage of a £100m redevelopment.
A new Inland Port and link road connecting to the M18 are already going ahead in the area.
UK Coal said the homes would be built on the 49 hectare (120 acre) site of the former pit, which closed in 2007.
Tim Love from Harworth Estates, the property arm of UK Coal, said the development would bring jobs and help regenerate the area.
Jobs created
A food store, commercial units, a pub and hotel are included in the housing proposals.
Mr Love said the Finningley and Rossington Regeneration Route link road would open up the housing development to the Inland Port, airport and the M18.
Rossington councillor Barry Johnson said the announcement was "marvellous news".
"It's the regeneration not only of Rossington but the whole of the south of Doncaster," said Mr Johnson.
"The planning is in for the houses, the Inland Port has passed and the link road is on its way. The money is in place so I hope it will happen very soon."
The 2.5 mile (4km) link road through Rossington was approved in February.
It will include a bridge over the East Coast Main Line, linking the Inland Port to junction three of the M18 and Robin Hood Airport at Finningley.
A coal recovery and restoration scheme at the former colliery was approved in April when RecyCoal was given planning permission to clean up 13m tonnes of colliery spoil, creating dozens of jobs.
In September, the Inland Port rail freight terminal in Rossington was given the go-ahead.
Developer Helioslough said more than 5,500 jobs would be created.