First tram-train gets go-ahead for Sheffield to Rotherham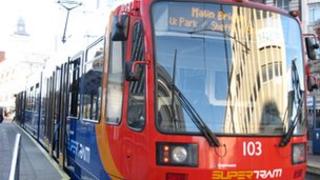 Tram-trains which run on street tracks and railway lines are to be piloted in South Yorkshire in a scheme worth £58m, the government has confirmed.
Starting in 2015, the newly-built tram-trains will run on local tram routes and Network Rail lines between Sheffield, Meadowhall and Rotherham.
The two-year pilot scheme will be the first of its kind in the UK.
Transport Minister Norman Baker said the pilot would test the concept for a possible wider roll-out across the UK.
Announcing the final go-ahead for the pilot scheme, Mr Baker said it would help to determine the practical and operational issues surrounding the running of tram-trains.
"It will also allow us to gauge passenger perception and acceptability of tram-trains," he said.
'Reduce congestion'
South Yorkshire Passenger Transport Executive would take the lead in providing the new tram-trains and would sponsor the pilot in collaboration with Network Rail, Northern Rail and Stagecoach Supertram, said Mr Baker.
The £58m budget would cover the cost of the new vehicles and the necessary changes to infrastructure, he added.
Julie Dore, leader of Sheffield City Council, said passengers would be "extremely pleased" the pilot scheme would take place in South Yorkshire.
"We've been waiting for it for a few years. The country needs to do something like this.
"It will reduce congestion on the roads so it's beneficial to both Sheffield and Rotherham."
The tram-trains are expected to cut journey times and make it easier for people to get into the city centres the vehicles serve.
They are said to be lighter, more energy efficient and have faster acceleration and deceleration than conventional trains.