University of Sheffield 'pioneering' building in £20m revamp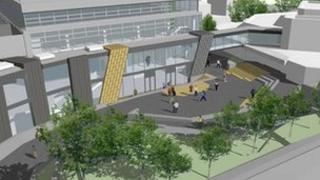 A £20m refurbishment will bring a "pioneering" building at the University of Sheffield back into the heart of the campus.
University House was one of the first glass curtain walled buildings in the world when it was completed in 1963.
It will now be transformed into a new facility for students, staff and the community and will include an amphitheatre-styled space for events.
The university said work was due to start in July and finish in September.
Robert Smith, a fellow of the Royal Institute of British Architects, spent 12 years from the late 1950s designing buildings for the university including University House.
Mr Smith said the building was a "groundbreaking design".
"It offered some of the best views of Sheffield, and still does now," he said.
The refurbishment will include new meeting rooms and will also reduce the building's carbon footprint.