Sheffield's Park Hill flats a 'financial disaster'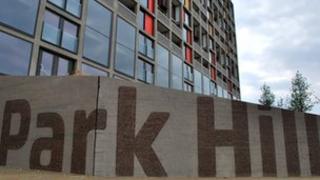 A Sheffield residential complex is a "millstone" and a "financial disaster", a former city council leader has said.
The Grade II*-listed Park Hill flats have been undergoing a multimillion-pound redevelopment for the past five years.
Former Liberal Democrat council leader Paul Scriven said out of 52 flats on sale, only 18 had been reserved.
However developers Urban Splash said they were "pretty happy" with the rate of sales.
Mr Scriven has criticised the renovation from the start.
"For all Sheffield taxpayers this is a millstone around our necks," he said.
"Thirty million pounds of our money has been put into the development.
"I predicted when this started that this financially does not stack up."
But Urban Splash said Mr Scriven had misrepresented the funding issue.
A spokesperson said: "Public funding in the scheme is from the national purse. Sheffield Council taxpayers' money is not funding the refurbishment of Park Hill flats."
'Normal pattern'
Of the 18 reserved flats, Urban Splash development manager Mark Latham said five were legally guaranteed.
"In the current market, we're pretty happy with it," said Mr Latham. "Everybody would like it to be more but it's very difficult market conditions."
Completion of the first phase, the north block, is predicted for the end of November or beginning of December.
"We're still not six months until the first completion," Mr Latham said. "Most mortgage offers don't last more than six months.
"This is a normal pattern and as we get nearer to the first completion date we're confident we'll see more and more [sold]."
Twenty-six flats have been earmarked for social housing, in which a housing association would own 25% of the property and the balance would be owned by the resident.
Mr Scriven said that would mean the Urban Splash development would be compromised.
"Only if enough flats are sold in phase one and Urban Splash make a profit will they invest in phase two," Mr Scriven said.
"If they're sold as shared ownership, they're not getting the full amount they were expecting so profits will not be high.
"It looks as though we're going to have a half-completed development. It's all going to come back to the taxpayer.
"We're going to be left with a financial disaster that Sheffield is going to have to deal with for a long time."
However, Urban Splash said shared ownership had always been "part of the vision".
A housing association partner, Great Places housing group - formerly known as Manchester Methodists - had been involved in Park Hill since "day one", Mr Latham said.
Urban Splash spent £14m on the north block before submitting plans to the council in December to extend the commercial use of the site, to include restaurants, bars and a gym.