Doncaster Rovers to take over Keepmoat Stadium from council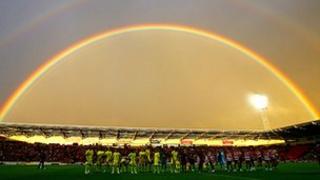 Doncaster Rovers FC and the town council have agreed to finalise plans for the club to take over the running of the Keepmoat Stadium.
The club will pay the council an inflation-linked £100,000 per year for a 99-year lease.
Rovers will then have financial and managerial responsibility for running the stadium.
Elected Mayor of Doncaster, Peter Davies, said it was well known that the Keepmoat was losing money.
"Quite frankly, running a stadium is not what the council should be doing or has the skills and expertise to do well," said Mr Davies.
Doncaster Rovers Belles Ladies Football Club and Doncaster Rugby League Club will continue to train at the Keepmoat, provided they continue to pay for their use of the stadium.
'Drain on finances'
Doncaster Athletic Club will also be allowed to stay and will be given more control of the track, while community activities and car boot sales will continue.
The £32m stadium was built and funded by Doncaster Council, and run by the council-owned Stadium Management Company (SMC).
Finance director Simon Wiles said it was a continuing drain on the authority's finances and that the council would have to budget for a loss of up to £300,000 a year if it continued with the SMC.
Mr Davies said the council should concentrate on its "core business" of running the council.
"It is well known that the stadium is losing money," Mr Davies said.