Vicar of Doncaster apologises over Facebook posts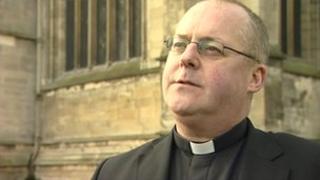 A vicar has apologised for using "inappropriate language" in posts he made on Facebook.
The Vicar of Doncaster, Canon Paul Shackerley, is understood to have used a four-letter word and complained about having to go to church on Sunday.
A complaint about the comments was sent to senior clergy at the Diocesan Bishop of Sheffield's office.
The Bishop of Doncaster said Mr Shakerley had apologised in writing and assured him it would not happen again.
'Unfitting language'
The posts included comments such as "I think I will put my feet up" and "I hear the fizz of tonic in my gin beckoning", a report in the Yorkshire Post said.
It is understood Canon Shackerley went on to post: "Alas, I have religion tomorrow. At least I'm not preaching this week."
A letter of complaint and a copy of the Facebook post were sent to the Bishop of Doncaster, Peter Burrows.
In a statement the bishop said the canon regretted his comments.
The statement said: "I have met with Canon Paul Shackerley and he deeply regrets the use of inappropriate language on his Facebook page which he has now removed.
"Whilst meant in a jocular sense he recognises that some of the language was unfitting. He has apologised unreservedly.
"He sincerely regrets the embarrassment caused to the congregation, the wider church and, of course the people of Doncaster.
"I have received Paul's letter of apology and have been assured that this will not happen again and that we can now draw a line under this matter."
Canon Shackerley was unavailable for comment.