Vulcan bomber XH558 fault causes Robin Hood Airport closure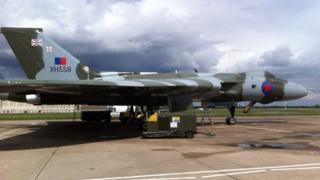 Doncaster Robin Hood Airport was forced to close after pilots on the last flying Vulcan bomber aborted take-off due to an engine fault.
The aircraft, XH558, was due to take off at midday from to practise a display flight.
The crew reported a fault and shut down two of its four engines before its take-off run.
The South Yorkshire airport re-opened after about 90 minutes with two flights diverted, the airport confirmed.
An investigation into the engine fault was now being carried out, said plane operator Vulcan to the Sky.
Nuclear bomber
The Cold War bomber, named Spirit of Great Britain, was due to take part in a tour of UK air shows for the Queen's Diamond Jubilee.
It was not yet clear how the incident would affect the plane's display commitments, Vulcan to the Sky said.
Designed to be a high-level nuclear bomber for the Royal Air Force, the Avro Vulcan XH558 first flew in 1952.
The aircraft was then purchased by a private investor when sold for scrap by the Ministry of Defence in 1992.
The bomber was restored to flying condition in 2007 after a £7m fundraising campaign by Vulcan to the Sky.
Vulcan XH588 recently featured in a recent BBC report about the 30th anniversary of a bombing raid on the Falkland Islands carried out by a lone Vulcan.