South Yorkshire Police put girl's details on website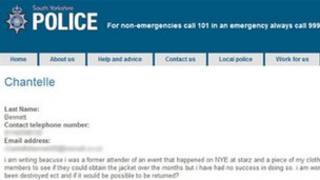 A girl whose details were published online by South Yorkshire Police has received an apology from the force.
Chantelle Bennett, 17, from Meersbrook, Sheffield, said she was "furious" that her name, phone number and email address were published on its website.
The email police published was about a jacket which Chantelle had left at the Stars and Mayfair nightclub after an incident on New Year's Eve.
South Yorkshire Police blamed technical issues for the publishing error.
Chantelle said her jacket had been left because people had gone out in a "big rush" following an attack in which 27-year-old Joshua Green was stabbed.
Although she had nothing to do with the incident, she said her family feared the repercussions of her personal details being published online.
'Very dangerous'
A police statement said: "Three online inquiry forms were published on the website when they should have been submitted for internal use.
"The feed that caused this issue has been disabled for testing while the online inquiry forms have been fixed and are now secure for public use.
"The force has contacted Chantelle's family to apologise and explain the action taken to rectify the problem."
The teenager's father Alan said it was "very dangerous" that his daughter's details had been disclosed in connection with such a high profile case.
"It's very worrying. People read the wrong things into things. It could have gone disastrously wrong," he said.
Chantelle said she was furious, adding: "I would never expect it, especially from the police who are supposed to protect you.
"I had the impression that the email would be confidential."
South Yorkshire Police also apologised to two other people whose personal details appeared online following the launch of the new website.