Plan for £25m building at Sheffield Hallam University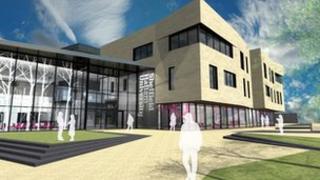 A new £25m building will be opened at Sheffield Hallam University's Collegiate campus by the end of 2014.
The 77,500 sq ft (7,200 sq m) three-storey building will include a lecture theatre.
The campus is in a conservation area and the building will have a series of pavilions around an atrium in a landscaped setting.
Mark Swales, of Sheffield Hallam University, said: "It is important that we invest in the future."
The project also involves refurbishment of existing buildings and work will begin in autumn with the demolition of the Heart of the Campus, Marshall Hall and Yorkon buildings.