Sculpture called Danum unveiled in new Doncaster square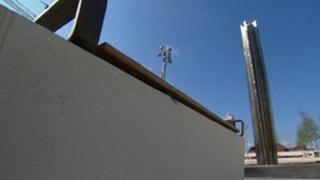 A new sculpture in Doncaster has been been designed with help from the local community.
The 26ft (8m) high work called Danum, the Roman name for Doncaster, was unveiled in a newly developed square.
The £60,000 sculpture reflects the history of the region, from the local Iron Age tribes to the Victorian railway works.
Local sculptor Michael Johnson worked with schools and community groups to design the stainless steel and artwork.
The new sculpture is the centrepiece of the town's new Sir Nigel Gresley Square, named after the former chief engineer of the London and North Eastern Railways (LNER).
The LNER's Doncaster railway works were a major employer in the early 20th Century and produced some of the UK's most famous locomotives, such as the Mallard and the Flying Scotsman.
The new square was opened as part of the the Queen's Diamond Jubilee celebrations and will eventually house Doncaster's new theatre.