Fortnightly bin collections in Sheffield to start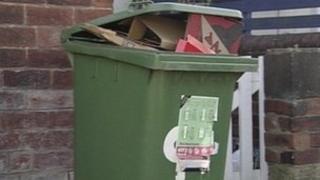 Fortnightly bin collections in Sheffield will start next month in a bid to save the council £2.4m a year.
It means black bins will be collected once every two weeks and will alternate with blue recycling bins.
The switch will be introduced in two phases, with half of the city starting the new arrangements in July and the other by September.
The council said budget cuts meant it needed to save money. The GMB union said the move would lead to job cuts.
The Labour-controlled authority said it needed to make budget savings of nearly £220m over the next four years.
Veolia, which manages waste collections for Sheffield Council, said the changes meant householders would be able to choose which items of recycling they put in their blue bins and boxes.
It said leaflets would be distributed to residents giving details about the changes and people should continue to use services as normal until they receive more information.