Major new link road in Doncaster approved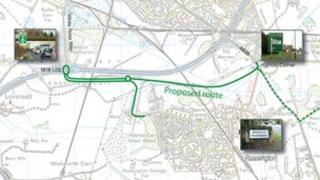 Plans for a major link road in Doncaster have been approved.
The Finningley and Rossington Regeneration Route Scheme is a 2.7 mile (4.5km) link road, promising to improve access to the south east area of the town.
It is estimated that the dual carriageway, which will cost in the region of £59m, will link the M18 and Rossington, cutting journey times.
The road is part of an investment for the South Yorkshire region project.
In April last year, £18m was awarded to the scheme from the government's regional development fund, as well as private investment funds raised.
The scheme will link two projects in the area, including an inland port rail freight terminal and 1,200 new homes on the former Rossington Colliery, which are both currently in development.
Daniel Fell, deputy CEO at Doncaster Chamber, said: "The road will significantly enhance the growth potential of Doncaster Sheffield Airport - this will help the area's importers and exporters and encourage more firms to trade internationally.
"This road is good for business, good for Doncaster and good for jobs."
Doncaster Council said the scheme would provide thousands of private sector jobs for local people.
Work is due to start later this year and is expected to be completed by 2014.