Mother remembers Sgt Ian McKay killed in Falklands War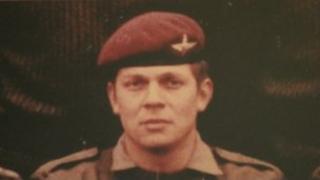 The mother of a South Yorkshire soldier killed trying to save colleagues in the Falklands War has spoken of the "black tunnel" she experienced after his death.
Sgt Ian McKay, from Rotherham, was killed on 12 June 1982, aged 29.
He was posthumously awarded the Victoria Cross (VC), the UK's top military honour, for displaying "courage and leadership of the highest order".
Freda McKay said although she was proud of her son's achievement, it was hard to take in that he had been awarded the VC.
'Quiet wander'
"It didn't mean as much at the time because we were still in a state of shock really," said Ms McKay.
"The first year after Ian was killed was rather like a black tunnel for me."
A portrait of Sgt McKay is being unveiled at Wortley Working Men's Club in Barnsley later.
"It's very pleasing - it helps me to get along to know that some people still remember," Ms McKay said.
Sgt McKay is one of three Rotherham soldiers to have been awarded the VC.
His name was engraved on a fountain in the town's Clifton Park in October, along with those of Pte George Chafer and L/Cpl Thomas Jackson, who fought in World War I.
Sgt McKay, born in Wortley, near Barnsley, was killed while trying to save his colleagues of the 3rd Battalion Parachute Regiment from enemy fire at Mount Longdon.
Despite being injured, he secured an enemy position alone but was killed in the assault.
Ms McKay said on the anniversary of her son's death she normally visited Rotherham Town Hall, where another picture of him hangs.
"I usually have a few words with the portrait, then I'll probably go to the park where the VC memorial is and have a quiet wander around there."