Sheffield Arena to 'fight off' rival Leeds Arena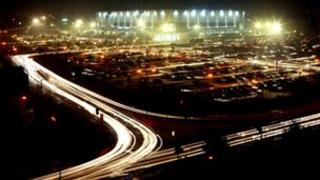 A South Yorkshire arena has said it will fight off competition from a rival venue in West Yorkshire.
Sheffield Arena, run by Sheffield International Venues (SIV), said it was worried about loss of revenue when the new Leeds Arena opens next year.
The new 12,500-seat venue on Clay Pit Lane is due for completion in March 2013.
Leeds councillor Richard Lewis said there would be enough demand to have two arenas.
SIV chief executive Steve Brailey said the advantage Sheffield Arena has over Leeds is access.
He said SIV was working with Sheffield Council to further improve this and to reduce traffic jams at big events.
"We're five minutes from the M1, we've got our own tram stop, we've got dedicated car parking, and so it's relatively easy to get into and out of Sheffield Arena," Mr Brailey said.
He said the arena in Leeds, which will be run by SMG Entertainment, would be a "nightmare" to get to.
'Adverse effect'
"At the very time people will want to get to Leeds Arena, it will be rush hour in the middle of Leeds," Mr Brailey said.
South Yorkshire MPs objected when the government approved £10m of public money in 2009 for a new £80m Leeds Arena, just 34 miles from the Sheffield venue, saying it could have an "adverse, knock-on effect" for Sheffield Arena and local jobs.
Leeds city councillor Richard Lewis said there will be enough demand to have two arenas in neighbouring cities.
"Certain people have built up this rivalry," said Mr Lewis.
"I'm not sure why it's become this big worry. It's not as if there's a finite number of people who go to venues.
"There are huge swathes of people in East and North Yorkshire who feel they have a huge distance to travel if they want to go to a big event."