M1 Man of Steel sculpture planning application submitted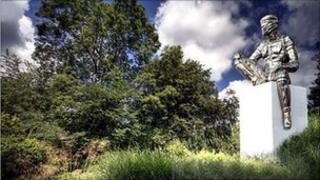 A planning application has been submitted by an artist who intends to create a 40-metre sculpture by the side of the M1 overlooking Sheffield.
Steve Mehdi said the Man Of Steel sculpture, capturing a male sat on a steel plinth, would cost in the region of £2.5m and would be privately funded.
Mr Mehdi said the artwork would stand twice the height of the Angel of the North in Gateshead.
Rotherham Council said the application would be considered later this year.
The site which has been earmarked for the sculpture is on a hill in Kimberworth. The artwork would be seen from the M1 Tinsley viaduct, between Sheffield and Rotherham.
Mr Mehdi said: "If we create a gateway sculpture for this region it would give people a sense of pride in the region... but also a focus for other people outside the region to think about coming here and perhaps more of a destination to visit."
The former steel labourer said he was in discussions with Tata Steel and engineering company Mott MacDonald to fund and work on the project.
Mr Mehdi said he hoped the sculpture would be ready by 2015.