Indefinite recycling strike called in Sheffield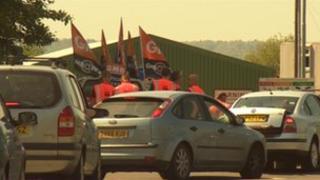 An indefinite strike will be held by workers at five recycling centres in Sheffield if a dispute is not resolved by Saturday, said the GMB union.
Union members have staged a series of strikes and protested outside depots at Shirecliffe, Woodhouse, Gleadless, Deepcar and High Green since May.
The dispute follows council plans to close some of the facilities on week days, leading to seven job losses.
A spokesman from Sheffield Council said it was "keen to find options".
'Complete re-think'
Pete Davies, a GMB official, said he was optimistic that a meeting would be held with the council to resolve the issue.
"We need a complete re-think on the closure of these sites."
Mr Davies added that despite the strike having "devastating effect" on about 34 members, the union was committed to "keep this battle going".
Jack Scott, Cabinet Member for Environment and Recycling at Sheffield City Council, said: "It's disappointing we're in this position.
"We are keen to find any options we can discuss, and look at new ways of working.. and also re-build some trust which might have been lost.
"We want to keep talking. We have very different perspectives on this and we're quite a distance apart."
Sheffield City Council said the plan to close sites on weekdays would save about £500,000 from the council's budget.