Flood prevention work in Darfield under way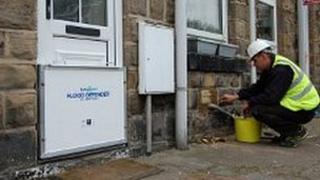 Flood prevention measures are being fitted to about 70 houses in South Yorkshire.
The work in Darfield, near Barnsley, includes Doncaster Road, Riverside Close, Cliff Road and Church View.
The streets are close to the River Dearne bridge and were inundated by the high floodwaters of June 2007.
The £320,000 project will take several weeks to finish and equipment includes high-speed pumps to be fitted below ground-floor level at some properties.
The pumps are triggered automatically to prevent rising floodwater reaching the floorboards.
Other measures include air-brick covers, and removable door barriers put in place at times of flood risk to provide a watertight seal on external doors.
One-way valves for waste pipes will also be fitted to prevent flood water flowing up the property's waste water and sewage pipes.
The work is being funded by the Environment Agency.