Moorland Plastics disability employer to take on more staff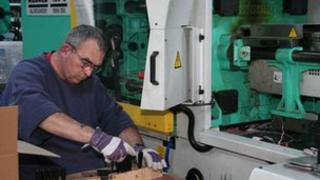 A plastics company in South Yorkshire which employs people with disabilities has said it is expanding.
Moorland Plastics, a not-for-profit company based in Barnsley, currently employs 33 people with disabilities.
Marketing and sales manager, James Smith, said the firm intended to employ 20 more people over the next 12 months.
The firm started in 1966 to help injured WW2 veterans, who would knit socks or weave baskets.
Staff with physical disabilities or learning difficulties are now employed at the factory on Carlton Industrial Estate in Barnsley, where they learn valuable work and social skills.
Employees manufacture plastic doors and windows as well as plastic parts for hand tools and contraceptive kits.
'Stepping stone'
Mr Smith said the company moved to the premises from a smaller factory on Moorland Avenue six months ago.
"We're funded by Barnsley Council, the DWP and profits from sales," he said.
"The company is a stepping stone for people with disabilities."
"After six months, we encourage employees to find work and we support them for as long as they need it," he added.
"Some people just need experience in the workplace while other people need our support throughout their working life."
Mr Smith said that because there seemed to be a big problem with literacy in Barnsley, the company was looking to employ families of people out of work.
"We'll also work with Barnsley Council to employ Neets [young people Not in Education or Training], and we'll have disabled young people from Barnsley College to work with us for a year," he added.
The company works with charities including the Army Benevolent Fund and the Fire Fighters Charity, Mr Smith said.