John Leggott College sixth form staff strike 'to continue'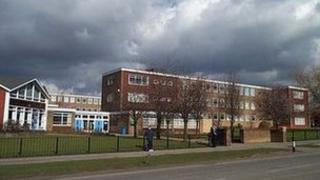 A strike at a college in North East Lincolnshire is set to continue for another two days.
Members of the National Union of Teachers (NUT) at John Leggott College in Scunthorpe picketed the sixth form on Wednesday.
Two more days of strike action are planned for Thursday and 28 June.
College principal David Vasse said they were responding to government cutbacks and he was disappointed that the action was being taken.
NUT representative Nick Raine said the strike dates were unlikely to be called off and there would be "potentially more days of action".
John Leggott College Principal David Vasse said: "A small number of staff at the College have signalled their intention to take industrial action on three days over the next week or so but the College will remain open."
The dispute centres around compulsory redundancies, increased workload, and the employment of unqualified staff to tutor students from September 2012, the union said.
The college disputed claims that pastoral tutoring would be carried out by unqualified staff.
In a statement, it said: "We will employ suitably qualified tutors for such responsibilities."
Of the 50 NUT members at the college, the union said 91% had voted in favour of strike action.
The college was "aggressive" and unwilling to negotiate in response to union concerns, Mr Raine said.
Cuts 'damaging'
"Whilst making teachers redundant, it is still advertising to recruit staff," a statement said.
"NUT members believe that it is wrong to make such damaging cuts to frontline education and it is wrong to recruit non-qualified staff to tutor students."
Instead of advertising for tutors at reduced salaries, the school should conduct a skills audit to match staff facing redundancy with job vacancies, Mr Raine said.
"The tutors' are being recruited to help students with university applications and references - a job which could be done by existing teachers facing redundancy," Mr Raine said.
An NUT leaflet from the picket line said it was the first time teachers at the college have taken strike action.
"Neither the NUT, nor the staff, have been given a satisfactory reason for these redundancies," the NUT said.
The college said of the 282 staff it employs, four posts were earmarked for redundancy.
Mr Vasse added: "Like all public sector providers across the country, the College is needing to respond to reductions in government funding and this is something about which some teachers have chosen to protest.
"We have been consulting with our staff on a range of ways of reducing expenditure and making efficiency savings for a number of months now and are disappointed that they feel the need to take this action," he said.