Rolls-Royce announces 150 new jobs for Rotherham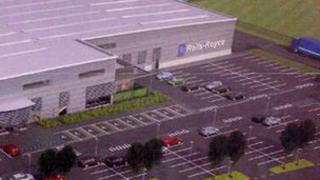 Rolls-Royce has said 150 jobs are to be created at a new factory in South Yorkshire.
The company will produce "single crystal" turbine blades - which are stronger than ordinary turbine blades - for aircraft engines.
The facility at the Advanced Manufacturing Park (AMP) in Rotherham will be operational by the end of 2014, Rolls-Royce said.
It said the blades would be used in the Airbus A380 and the Boeing 787.
Single crystal blades can also function at significantly higher temperatures than ordinary blades.
Tim Chapman from the AMRC said the centre was set up by the University of Sheffield to help manufacturing companies compete on a global scale.
Among the companies based there are Footprint Tools, IFA, Davy Markham and Forgemasters.
'Right calibre'
Many of the jobs at the new 100,000 sq ft (14,000 sq m) factory will be recruited locally and will go to highly-skilled operators and manufacturing engineers, Mr Kay said.
"As well as the AMP's good transport links and the technology here, Sheffield and Rotherham have a good history of engineering excellence," he added.
"We're confident that we'll find the right calibre of people here."
Business Secretary Vince Cable, who performed the ground-breaking ceremony at the Waverley site, said it had been a mistake to allow Britain's manufacturing sector to decline.
"The idea has got around that Britain does not make things anymore, but we do," said Mr Cable.
Rolls-Royce said the construction of the new factory would mean work for about 300 people.
In June 2010, the government backed a £100m plan to develop 230 hectares of former mining land across the road from the AMP.
Up to 4,000 houses, shops, a hotel, retail and leisure facilities could be built if plans are approved.
A link road to connect Rotherham and Sheffield, providing access to the AMP, is also under consideration.