Sheffield council plan to deal with recycling strike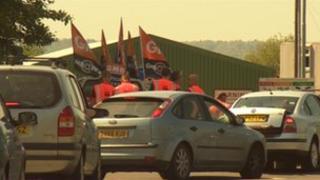 Plans have been put in place to deal with an indefinite strike by workers at five recycling centres in the city, Sheffield Council has said.
Union members are due to walkout on Saturday over council cost-cutting plans to close some facilities on weekdays, leading to seven job losses.
The GMB said a re-think was needed on the closure of the sites.
The council said there was no alternative and that some centres would be open during the strike.
Workers have staged a series of strikes and protested outside depots at Shirecliffe, Woodhouse, Gleadless, Deepcar and High Green since May.
No alternative
Sheffield City Council said the plan to close sites on weekdays would save about £500,000 from the authority's budget.
Councillor Jack Scott, cabinet member for environment, said: "Clearly if there was an alternative to making these changes we would have already taken it.
"But the reality is that the changes to opening times at the centres are the consequence of these funding cuts.
"We recognise the impact that these changes will have on the workforce, but because of the cuts we are facing we cannot avoid making this saving."
The council said Douglas Road and Blackstock Road sites would be open on Friday, Saturday, Sunday and Monday from 09:00 to 18:00 BST.
On a Tuesday, Wednesday and Thursday, Douglas Road will be open from 10:00 to 16:00 BST.