Doncaster mayor Peter Davies faces library legal battle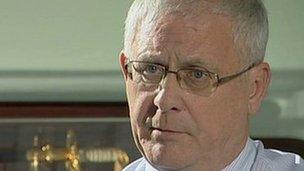 The elected mayor of Doncaster faces legal action after he overruled councillors who voted to change his budget and save libraries.
Mayor Peter Davies proposed a budget which would result in the closure of two libraries and see 12 more being run by community volunteers.
Two thirds of councillors voted for an amendment to allocate funding to the libraries but Mr Davies stood firm.
An unnamed resident has mounted the legal challenge to Mr Davies' stance.
Doncaster Council has 64 members. In the vote, 43 councillors wanted to include the amendment, with six councillors voting against and three abstaining.
But English Democrat Mr Davies said he was not going to change the budget and the 14 libraries would close or be transferred to community volunteers.
A judge has granted permission to the unnamed resident to bring an application for judicial review challenging the mayor.
Phil Shiner, of Public Interest Lawyers, which represents the resident, said: "The mayor's refusal to implement the decision of a two-thirds majority of all of Doncaster's councillors is not only disastrous for the future of Doncaster's libraries, it raises a fundamental question about the elected mayor system.
"The claim will provide an important answer about the balance of power between an elected mayor and all of an authority's elected councillors."
Simon Wiles, Doncaster Council's director of finance and corporate services, said: "We are very confident that the mayor has acted properly and in accordance with the clear legal advice he has received, and that the decisions taken will be successfully defended."
The case will be heard at Leeds Combined Court Centre on 24 July.
Related Internet Links
The BBC is not responsible for the content of external sites.