Ellie Faulkner ready to take plunge for Olympic glory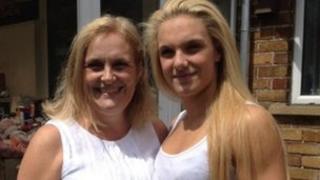 A teenager is hoping that a decade of dedication will pay dividends at the London Olympic games when she takes the plunge in the swimming pool.
After 10 years of getting up in the early hours of the morning, 19-year-old Ellie Faulkner from Sheffield is aiming for gold in the 800m freestyle at the Aquatics Centre at London 2012.
Ellie will compete in the 800m event in a few weeks - an event for which she has spent countless hours powering through length-after-length in training since she was aged nine.
Her mother, Jane, has been there all the way: "It's the mornings that's the killer because I still wake up a 03.50am every day, wait while she gets up and now I can get back to sleep instead of actually getting up."
For 10 years getting up that early and jumping into the car had been their routine - Ponds Forge pool in Sheffield for training, school, then back to Ponds Forge for more training.
She adds: "I never spent less than four hours a night at Ponds Forge, it was a running joke that I slept in the Skyline Suite."
As Mrs Faulkner viewed the medals Ellie has won over the last decade, she said it would be nice to add to the haul in London, but conceded her daughter was never really supposed to go to this Games.
"It's just an added bonus, it is here in England but it will also give her the grounding for 2016 which is in Rio de Janeiro."
That is a Games where Ellie's 17-year-old brother, Joe, hopes to feature.
He said following Ellie to training had sparked his interest.
Joe said: "I'd been going down [to the pool] every night after school and because my mum was waiting for Ellie, I had to wait with her.
"Eventually it was like - I might as well start now too.
"It's a massive inspiration, you hear about Olympians, but now there's one living in the room next door," he adds.
Mrs Faulkner said the family's dedication to their children went further than their training in the pool.
She said: "My husband and I have spent the last 10 years just saying hello, one of us going out of the door as the other comes in. That's just how it is."
She admitted it could sometimes hit family life.
"It is hard, very hard sometimes.
"You just don't see each other. It is a huge commitment, but as long as they enjoy it, you do it."
Ellie said she does not know if she has missed anything growing up, because so much of her life has been about swimming.
She is certain though that it is all worth it and knows she is in debt to her parents.
"I owe them loads but I suppose making the team has done that for them," she said.