Sheffield recycling workers in suspend strike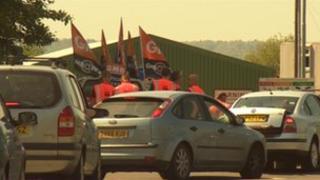 Striking workers at household waste recycling centres in Sheffield have voted to suspend their action.
Workers at the five centres began industrial action in May but walked out indefinitely last week.
A spokesman for the GMB union said sacked workers would be reinstated and a new bonus scheme implemented.
The workers are employed by SOVA Recycling who run the centres on behalf of the Labour-run council and waste management company Veolia.
GMB spokesman Pete Davies: "Jack Scott, the councillor responsible for environment, waste and streetscene in Sheffield got the principle people from Veolia and SOVA and ourselves together.
"We've got a new bonus scheme that we're now talking to SOVA about.
"We've suspended our action with a view to calling it off completely if these talks we were promised go ahead."
'Back to normal'
Mr Davies said the council had agreed to a scrutiny board meeting looking at the business model of contracting out and sub-contracting work which was "top-heavy with management".
He said he expected recycling centres to be "back to normal" on Monday.
Councillor Jack Scott said: "I am glad we have been able to work together to find a solution to this situation.
"Let's be clear, if we hadn't been hit with £55m of government cuts we would never have been put in this position in the first place.
"We have reached an agreement with the unions which includes reviewing training and support to staff to raise skills among other things, which will ensure productivity continues.
"We know there are other issues which still need to be addressed, but we are keeping all channels of communication open to resolve these as quickly as possible to avert any further action."