Rotherham Central Railway Station reopens after revamp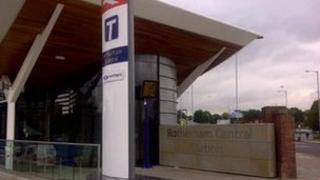 A South Yorkshire railway station has officially reopened after an £8.5m revamp overran by more than a year.
Rotherham Central station has been updated to include new lighting, lifts, a waiting room and improved passenger information screens.
Work started in February 2010. It was due to be completed in December 2010 but has taken 18 months longer than expected.
The station was opened by Transport Secretary Justine Greening.
As part of the refurbishment, the station also has CCTV, a new ticket office and retail kiosk.
Disabled access to the station has also been improved.
The South Yorkshire Passenger Transport Executive (SYPTE), which has funded the redevelopment, apologised for the delay.
David Young, director of customer experience at SYPTE, said: "The delays were caused for a number of reasons.
"[There were] problems with the contractor underestimating the complexities of working in a live railway and more latterly, one or two problems with sub-contractors unfortunately going broke in the current climate."
Mr Young said the station was "much better" for commuters.