Meeting over new Sheffield market rent fears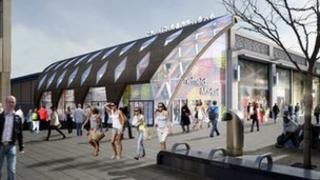 Traders at a South Yorkshire market are to meet with council officials about increased rents at a planned new site.
Work on a new indoor market and retail units on The Moor, Sheffield starts on Monday until the end of 2013.
Fruit and veg trader Mick Cull said it would cost him more than double to rent space in the new market.
Councillor Bryan Lodge, a cabinet member at Sheffield City Council, said rents would reflect the cost of building the new facility.
Mr Cull welcomed the new market but said his rent, currently about £1,350 a month, would be "in excess" of £3,000 a month for the same floor space in the new building.
"Rents are a major concern," he said.
Mr Lodge said the council needed to make sure traders could operate in the new market to make it viable.
"We want a good mix of products, good mix of stalls and a good mix of tenants," he added.
He said he remained confident the planned shopping mall would increase trade in the city centre and the market was an integral part of the plan.