Casey Kearney murder victim in 'wrong place at wrong time'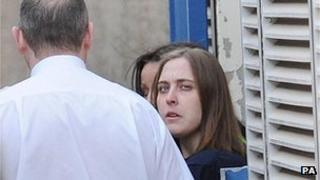 As teenager Casey Kearney walked through a Doncaster park on Valentine's Day she had the tragic misfortune of crossing paths with Hannah Bonser.
The 13-year-old was on her way to a sleepover at a friend's house when she was fatally stabbed in the stomach.
Casey collapsed on the path, bleeding internally as Bonser, a woman she had never met, carried on walking.
The trial heard it was a motiveless, random attack by Bonser, who had a history of mental health issues.
Jurors at Sheffield Crown Court took less than two-and-a-half hours to find the 26-year-old, of Cusworth House, Doncaster, guilty of murder.
Bonser had denied murder but admitted manslaughter on the grounds of diminished responsibility.
The trial was told how Casey, of Rossington, was stabbed with a kitchen knife without warning as she passed Bonser in Elmfield Park.
'Complete psychopath'
One lawyer had told the court: "She really, really was in the wrong place at the wrong time."
The teenager managed to call 999 on her mobile phone but died eight hours later in hospital.
Tennis coach John Willis was in the park with his children at the time and went to the teenager's aid.
"My children came running to me shouting loudly that there was a lady having a fit on the ground and could I come and help.
"I don't think it can be put down to anything other than wrong place wrong time."
The court was told after the attack, Bonser calmly walked to a mental health support unit nearby where she was known.
She handed in two kitchen knives and told staff she had killed somebody.
The jury was told how Bonser had a troubled, abusive history and had passed through the foster care system after the death of her mother.
About a month before the attack she described herself as a "complete psychopath".
Giving evidence, Bonser's friend Hayley Spouse said her mental state had deteriorated "unbelievably".
She said the defendant developed an interest in druids, smoked a lot of cannabis and had become scared of birds.
Bonser's defence team claimed she was a paranoid schizophrenic.
The prosecution had argued she was suffering from a personality disorder and killed the teenager in order to get admitted to hospital.