Operations by surgeon Manjit Bhamra prompt damages claims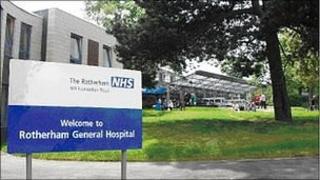 A Yorkshire NHS trust is facing up to 90 damages claims from patients who were operated on by the same surgeon.
More than £1m has been paid out by the Rotherham NHS Foundation Trust to settle 13 claims against Manjit Bhamra while he worked at Rotherham Hospital.
The trust said 64 claims had been lodged with 26 more to possibly follow.
Mid Yorkshire Hospitals trust, where Mr Bhamra now works, has "no concern about any aspect of his practice" and said he would not comment.
Mr Bhamra was employed at Rotherham as a full-time orthopaedic surgeon specialising in hip replacements until September 2007.
Rotherham NHS Foundation Trust said up to January 2012, 12 claims were settled for a total of £1,047,784.
The amounts ranged from £1,750 to £500,000, with the hospital admitting liability in half of the settled claims but no admission in the other six.
The trust said a 13th claim had also been settled for £11,000 and was agreed before any admission or denial of liability was made.
All the claims relate to operations between 2005 and 2007.
'No concern'
A spokeswoman for the trust said: "We can confirm that we have entered into a protocol to investigate a number of claims arising from treatment provided by Mr Bhamra.
"Whilst we cannot comment on individual cases, we are supporting the process to ensure that any cases where compensation should be paid are identified as quickly as possible.
"At this stage, we are unclear how many claims received will result in compensation being paid."
The trust said Mr Bhamra had twice been cleared to continue working following investigations by the General Medical Council.
Nearly all of the current claims are being handled by Irwin Mitchell solicitors.
Tim Annett, a specialist in the firm's medical law and patients' rights team, said: "Having already concluded five cases on behalf of clients who suffered complications after surgery by Mr Bhamra, Irwin Mitchell has now agreed a protocol for further cases to be investigated on behalf of clients who have experienced difficulties following surgery by the same person."
A spokesperson at The Mid Yorkshire Hospitals NHS Trust said there was "no cause for concern about any aspect of Mr Bhamra's practice".
"All medical staff that we recruit are subject to a robust recruitment process which complies with NHS guidelines and we routinely monitor the practice of all our surgeons using a range of measures.
"We currently have no cause for concern about any aspect of Mr Bhamra's practice."
The trust said Mr Bhamra retained a full licence to practise with the General Medical Council.