Sheffield Forgemasters set for nuclear expansion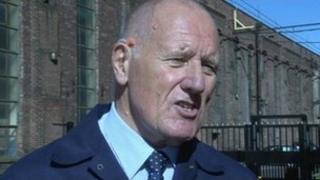 Sheffield Forgemasters is set to become the UK's only company allowed to weld together critical components for the nuclear industry.
The firm is due to achieve Nuclear Partials (NPT) status, allowing it to expand its international output.
It follows a successful year which has seen turnover increase by 25%.
Peter Birtles, Forgemasters group director, said: "This is very big news for us and believe me we don't take it for granted."
Forgemasters' bid for NPT accreditation follows approval to retain its 20-year American Society of Mechanical Engineers (ASME) status, which allows the business to make components for civil nuclear applications.
Forgemasters, which is a supplier to the UK defence industry, can currently supply material for use in civil nuclear applications but it cannot further weld components on these materials, as will be allowed by NPT status.
Mr Birtles said: "We will not only be able to continue doing what we're already doing in making components for the nuclear industry but we'll be able to carry out addition work like welding and fabricating pieces together, which takes us further down the supply chain and that's vital for our future."
He added: "Our turnover is holding up nicely, profit level tends to be improving and the order book is looking pretty strong.
"There are a lot of future projects out there which we expect to play a part in so we're quietly confident about the future."