Sheffield cafe hosts miners' strike exhibition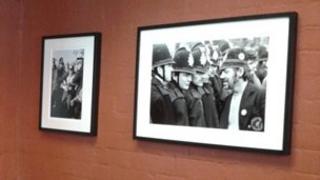 A Sheffield cafe is holding an exhibition of images of the 1984 miners' strike in honour of a local photographer.
The photographs were taken by Martin Jenkinson who died last month, aged 64.
Mr Jenkinson covered the industrial action in South Yorkshire and his work included a famous image of the arrest of union leader Arthur Scargill.
Harland Cafe was a favourite haunt of Mr Jenkinson, a former steel worker, and other photographers.
The exhibition was put together by a colleague Mark Harvey who said many of the images will be on show for the first time.
He said: "I think he was up there with some of the best photo-journalists that the country has ever had, but he never showed his work.
"Even now I'm finding images in his archive that nobody has ever seen."
Mr Jenkinson was prompted to pick up his camera when he was made redundant in 1976.
He specialised in union matters and covered many of the industrial disputes in South Yorkshire throughout the 1980s.
His work appeared in many national and local newspapers.