Driver killed in Barnsley lamppost crash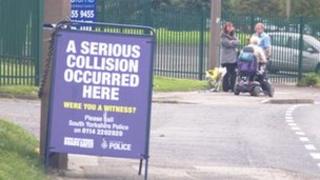 A 22-year-old man has died and four people have been injured in a car crash in Barnsley.
South Yorkshire Police said the driver of the car was killed when the vehicle hit a lamppost after leaving the road.
The accident happened on Industry Road at 22:25 GMT on Friday.
Police said the four passengers in the car suffered injuries, with one 17-year-old girl described as having "life-threatening injuries".
Another passenger, a 16-year old boy, has serious injuries and is being treated in Sheffield's Northern General hospital.
The two other passengers are described as having minor injuries.
The police said the accident was believed to have happened after the driver overtook a motor scooter near a bend in the road.
South Yorkshire Police said a 19-year-old man and 21-year-old man, both from Barnsley, have been arrested on suspicion of death by dangerous driving.