Rotherham sees food shoplifting rise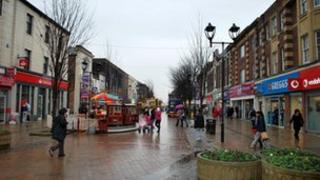 Thefts from shops in a South Yorkshire town have increased by 50% compared with the same period a year ago, police say.
The number of food items being stolen from shops in Rotherham accounts for a portion of the crimes.
Items including meat, cheese, coffee and toiletries are among the goods being targeted.
Officers said a number of people caught stealing said they could not afford to buy the food.
Ch Supt Jason Harwin said Rotherham had seen 150 extra recorded incidents of shoplifting between April and June this year compared with same period in 2011.
'It's rocketed'
He said: "There's a small increase in people who are committing the offence who tell us they can't afford to buy food which is a bit of a worry."
The force said it was working with agencies to combat the issue.
South Yorkshire Police said 342 thefts had taken place in the sample period, compared to 223 in the previous year.
Ch Supt Harwin said the majority of the items were being stolen by known criminals and people with drug and alcohol issues.
Ch Supt Harwin added: "There's a range of things being stolen from stores but the majority of items being stolen are food items including meat, cheese, coffee, toiletries and cosmetics. It's easy to conceal and easy to sell on."
Chris Marsh, shop manager for Boots Pharmacy at Parkgate, said the store had lost up to £20,000 a month through shoplifting.
He added: "Over the last four months we've really been hit big style.
"I've managed this branch for two years and it's increased tri-fold, certainly since Christmas it's rocketed. It's dreadful."