Rape charity call for Mike Tyson event to be cancelled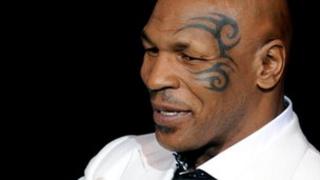 A group which supports rape victims in South Yorkshire has called for an event featuring former boxer and convicted rapist Mike Tyson to be cancelled.
Tyson will speak at an event - An Evening with Mike Tyson - at the Barnsley Metrodome in October.
Lynne Casserly, from Barnsley Rape Crisis, said the appearance was "offensive" and "wholly inappropriate".
Venue managers said they did not intend to cause offence. The event organiser could not be reached for comment.
Ms Casserly said: "If someone is saying, 'I got something wrong, I made huge mistakes' we may well be looking at a different stance.
"However he hasn't said that."
'Successful star'
Former world heavyweight boxing champion Tyson was convicted of rape in 1992 and served three years of his six-year sentence.
The Metrodome event is part of a UK speaking tour in which Tyson talks about his career and answers questions from audiences.
Barnsley Premier Leisure (BPL), which manages the venue on behalf of Barnsley Council, said in a statement that the space had been hired out to a promoter for an evening with the "world-famous sports star".
"BPL accepted the event due to Mike Tyson being one the most successful sports stars within history," it said.
"BPL have no intention of causing offence or disrespect to any groups or individuals."
But Ms Casserly suggested that the booking had caused offence
"One in four people either suffer domestic or sexual domestic abuse in Barnsley and across the country," she added.
"Why is that acceptable because someone has been a good boxer?"