Doncaster Royal Infirmary expands day surgery unit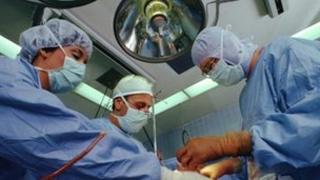 A hospital in South Yorkshire is to get a £1.8m expansion to its day surgery unit to deal with an increasing workload.
Officials at Doncaster Royal Infirmary have confirmed they will spend the cash on the unit with work expected to begin in September.
Advances in surgical techniques mean many more cases can be dealt with at the unit.
Officials said it would cut the need for overnight stays at the hospital.
Along with operating theatres, the new facility will include single-sex day wards and a waiting area for relatives and visitors.
'Full capacity'
A theatre assessment unit is planned where patients would be seen by surgeons and anaesthetists before surgery.
Children will have their own section including a colourful waiting area with toys and a new treatment room for paediatric dentistry and minor surgical procedures.
Jay Dugar, clinical director for theatres and a consultant surgeon, said: "Surgical advances, including keyhole techniques, mean that patients recover more quickly and many procedures that once required them to stay in hospital can now be done on a day-case basis.
"Our existing day surgery unit is now at full capacity with cramped facilities and the volume of day-case patients is only going to increase so we really do need to expand and upgrade it.
"We are also establishing a dedicated day-case and short-stay surgical ward as part of these plans so that patients don't need to be admitted to inpatient beds while recovering from their operation."