Sheffield flood defence scheme to be extended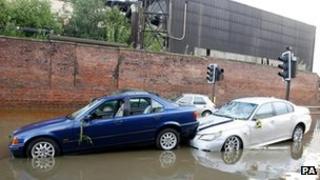 A multimillion-pound scheme to protect parts of South Yorkshire from serious flooding is to be extended.
Key river defences are already nearing completion at The Wicker and Nursery Street in Sheffield, where the river Don broke its banks in 2007.
But Sheffield Council says it will work with the Environment Agency and the private sector to fund further flood defence work as far as Meadowhall.
The extra defences will cost about £10m and are due to be built in 2014.
'Critical area'
Factories and shops, including the Meadowhall shopping centre, were badly damaged by flooding in 2007 at a cost of hundreds of millions of pounds.
Councillor Jack Scott, cabinet member for environment, waste and streetscene, said the Don Valley was a "critical area" for South Yorkshire's economy.
"We need to ensure that every potential threat or barrier to investment is removed," he said.
"The recent floods around the country were a timely reminder of what happened to us in 2007 and could happen again."
An outline proposal for the extended flood defence scheme was due to be drawn up by the end of the year, Sheffield Chamber of Commerce confirmed.