Doncaster Rovers takes over council-run Keepmoat Stadium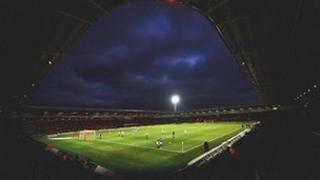 Doncaster Rovers has confirmed that the club has taken over the running of the Keepmoat Stadium from the council.
A club statement said it would take over a 99-year lease of the stadium this week.
The operational handover is due to happen on 1 September, but the club said a ceremonial handover had already taken place on 11 August at the match with York City.
The club has been at the £32m stadium since it opened in 2007.
The construction of the Keepmoat Stadium was funded by Doncaster Council and run by the council-owned Stadium Management Company (SMC).
'Means so much'
Gavin Baldwin, chief executive of Doncaster Rovers said: "This deal means so much to the club.
"There are many things that we intend to change to bring the Keepmoat Stadium back into the heart of the local community and to make sports fans truly feel it is their home."
Elected mayor of Doncaster, Peter Davies, said he was "pleased" about the takeover, after having said the council should concentrate on its "core business" of running the council.
The council's finance director, Simon Wiles, had reported that the council would have to budget for a loss of up to £300,000 a year if it continued to keep the stadium with the SMC.
The club said that Doncaster Rovers Belles ladies football club, the rugby league club and the athletic clubs will stay at the Keepmoat.
Community activities and car boot sales will also continue.