Rotherham's Oakwood School to give all pupils iPods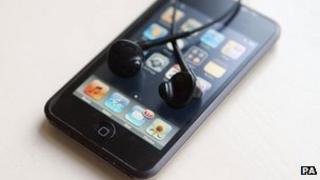 More than 1,000 pupils at a secondary school in South Yorkshire are being given an iPod Touch.
Rotherham's Oakwood High School said every student would have one of the devices by June 2013.
It said the technology would allow pupils to access the internet for research without the need to book computer rooms or be in a classroom.
The school declined to say how much the scheme was costing but said the money had come from existing budgets.
The scheme is being rolled out over a year to ensure students are given appropriate training on using their iPod and keeping it safe, the school said.
'Creative thinking'
David Naisbitt, the school's head, said: "This is not about cost but about the development of learning and teaching within our school.
"The iPod Touch is a great learning tool and will, we feel, encourage independent and creative thinking."
Mr Naisbitt added the scheme was in addition to and not a replacement for existing and more traditional educational tools.
"Children still need to sit exams and they still need to think, read, write, communicate and listen to each other. This is about adding to existing facilities, not replacing them," he said.