Penistone show attracts new rural traders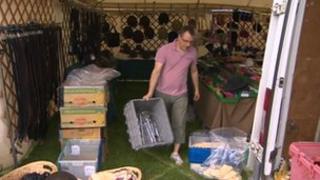 Organisers of an agricultural show in South Yorkshire claim poor weather over the summer has helped it attract new traders.
The annual one-day Penistone Show attracts up to 10,000 visitors a year.
More than 30 similar shows across the country have been cancelled in recent months due to poor weather.
The Penistone Agricultural Society said it believed many traders had decided to come after losing out financially at other shows.
Nicholas Hoyland, show manager, said: "We have a lot of new traders and exhibitors that have showed an interest in the show and are attending.
"We try to support local traders as much as possible but we have a lot coming from further afield this time."
The cost of cancelling agricultural shows can be high.
Organisers of the three-day Great Yorkshire Show, which was cancelled after just one day in July, have reimbursed up to 600 traders at a cost of £700,000.
Clare Hinchliff, from Clippity Clop which specialises in equestrian clothing, said: "We've had a few shows cancelled and we've turned up to shows to do two days and then have the third day cancelled.
"Hopefully Penistone will give us a good end to the season."