5th Battalion The Rifles march through Doncaster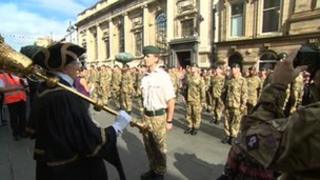 Hundreds of people gathered to watch soldiers from the 5th Battalion The Rifles exercise their freedom of Doncaster.
More than 200 soldiers from the regiment marched through the town marking their return from Afghanistan in May.
Rifleman Sheldon Steel, 20, from Leeds, died whilst serving in Afghanistan.
The parade was greeted at the Mansion House by town leaders including both the elected and civic mayors.
Many of the soldiers and their families come from Yorkshire, although the battalion is based in Germany.
Lt Col Charlie Collins, from the regiment, said the soldiers were delighted to have exercised their freedom for the first time since their return from Afghanistan.
He said: "It is a very important day to show with pride all we've achieved within the rifles, all that we have done for our country and the people of Doncaster and all we intend to do in the future."
Rifleman Steel was killed in a blast from an improvised explosive device (IED) on duty in Afghanistan in November 2011.