Sheffield recycling workers vote to continue dispute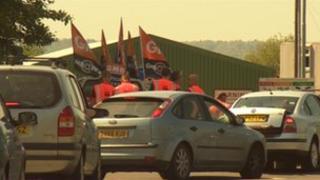 Workers at five recycling centres in Sheffield have voted to continue strike action at the weekend in a row over a cut in opening hours, a union has said.
Members voted to reject a 10% cut in hours offered by Sova, which manages the sites for Sheffield Council and waste company Veolia, said the GMB.
A Sova spokesman said the firm would "work hard" to find a resolution.
Three out of five recycling sites in Sheffield would remain open at the weekend, the council said.
Sites at Longley Avenue West, Beighton Road and Greaves Lane would be open between 10:00 BST and 18:00 BST on Saturday and Sunday.
'Massive cuts'
The dispute in Sheffield has been going on since December 2011.
Previously, Sheffield Council said the cut in opening hours at its recycling facilities were because it was facing "massive cuts" in government funding.
Pete Davies, a GMB spokesman, said any cut in hours for workers at Sheffield Council's recycling facilities would also mean a cut in pay.
Members were only asking for "a decent standard of living", said Mr Davies.
Sova operations director Stephen Bennett said the company had "made every effort" to address the issues raised in the dispute and had presented a "sound offer" to the union.
"We really want to see our staff back at work and see an end to the disruption in services to the public," said Mr Bennett.
Sheffield Council said on its website that it "apologised for any inconvenience" caused by the industrial action.