Frankie Dettori unveils St Leger plaque in Firbeck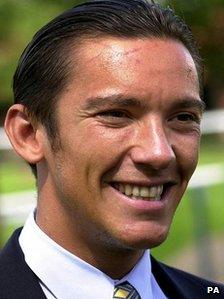 A blue plaque commemorating the founder of the St Leger Stakes horse race has been unveiled by champion jockey Frankie Dettori.
Major General Anthony St Leger was an army officer and politician who lived in Firbeck, near Rotherham, South Yorkshire.
Dettori unveiled the plaque at a village hall in front of 200 people.
Another blue plaque to honour botanist Hewett Cottrell Watson, also a former Firbeck resident, was also unveiled.
Mr Watson, who was also a phrenologist and evolutionary theorist, contributed to the development of Darwin's theory of evolution.
The plaque was unveiled by Ian Bonner, president of the Botanical Society of the British Isles.
Both Maj Gen St Leger and Mr Watson were residents of the Park Hill house estate, which was demolished in 1935.
The St Leger Stakes was established in Doncaster in 1776 and is one of the UK's oldest horse races.
Dettori was due to ride in the race, which he has won on five previous occasions, at Doncaster Racecourse on Saturday.