Alfred Denny Museum displays curiosities of nature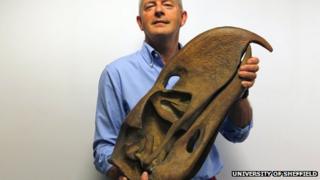 A model of a skull of an extinct "terror bird" is among the unusual items that have gone on show for the first time in 40 years.
Many of the exhibits at the Alfred Denny Museum, at the University of Sheffield, have never been seen by the public before.
It is being opened as part of the 11-day Festival of the Mind.
The private museum was founded in 1905 to help teach students in biology and related fields.
Its curator, Professor Tim Birkhead from the university's Department of Animal and Plant Sciences, will be giving free tours to the public over the next two weekends.
He said: "The museum is a teaching museum, and because of its location hasn't really been accessible to the general public before."
Poisonous jaws
It was created by the University of Sheffield's first professor of biology, Alfred Denny.
Prof Birkhead said: "He started collecting material for the museum because he knew that it had an essential role in teaching, so a lot of the material's been here for a very long time.
"What we have is representatives of all the major animal groups so we can demonstrate those to undergraduates."
He added: "There are some pretty intriguing specimens"
Exhibits include skeletons of tiny flying dinosaurs, half a dolphin, and sun spiders complete with ferocious, poisonous jaws.
The festival will feature 56 events across the city, and aims to get some of the world's leading thinkers engaging with the community.
In another event, called Animal Magic, Prof Birkhead is teaming up with contemporary artist Paul Evans to create a series of giant 8ft bowerbird nest structures around Sheffield.
Once built, artists will be stationed in the human-sized bowers to transform them into interactive art pieces.
Sheffield University vice-chancellor Professor Keith Burnett said: "My father used to say that the richest people in the world are those who take pleasure in ideas.
"Our university and our city are overflowing with ideas.
"Now, with Festival Of The Mind, we have the perfect opportunity to come together and celebrate that."