Sheffield Children's Hospital makes £10m public appeal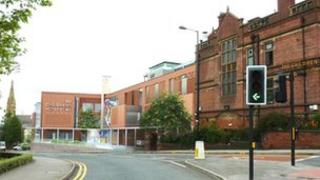 A South Yorkshire children's hospital is appealing for £10m from the local community so it can continue to offer patients a "world class" environment.
Launching the appeal, The Children's Hospital, Sheffield, said public money was "vital" to help fund a £40m modernisation of its city centre site.
The remaining £30m would come from government and private sources, said the Children's Hospital Charity.
The public's money would help "enhance" hospital facilities, the charity said.
'World class care'
The £10m, to be raised over the next three years, would help "transform" the hospital, said the charity.
David Vernon-Edwards, director of the Children's Hospital Charity, said patients and families needed "21st Century facilities" at its Western Bank site, which first opened in 1876.
"We currently offer world class care, but not a world class environment," he said.
Throughout its history, the hospital had depended on support from the local community, but that was "more vital now than ever before", said Mr Vernon-Edwards.
"Without the money, it would mean the hospital would be able to do less," he said.
"There are core things we offer which will carry on, but what we are talking about here is enhancements and added value."
'Biggest thing'
Money from the public appeal would be spent, among other things, on buying specialist medical equipment and the building of more single rooms for patients at the hospital, the charity said.
Other elements of the hospital scheme included moving key departments closer together, improved car parking and the building of a new play area and gardens.
Simon Morritt, Sheffield Children's NHS Foundation Trust chief executive, said the modernisation would be "the biggest thing to happen in child health care in our region since 1876".
Building work at the hospital is due to start in spring 2013 and is expected to finish in 2015.